90+ Super-cool built-in Visual FX themes to choose from, and more incoming.
Mix and match themes to create unique VFX collections to suit your tastes and your music.
Blazingly fast OpenGL-based on 2D and 3D rendering with maps, images and live view.

USB Webcams and iSight live video support : get inside your visualizations!
Use the built-in images as textures, or use your own photos & JPGs, PNGs, TIFs and more, or even Flickr pictures!

Full support for monitor 4K and digital projectors.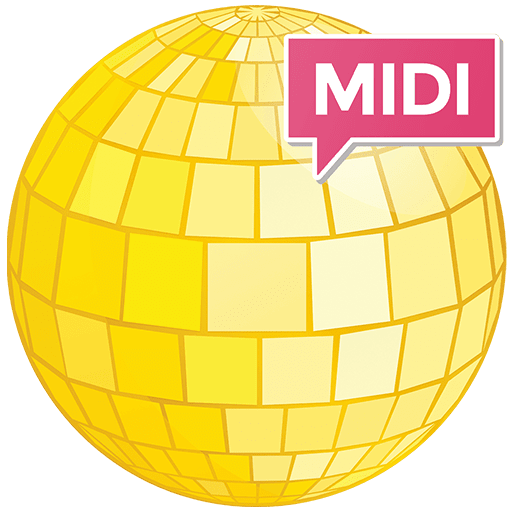 Version 2.1.6 - Public License
Version 2.0.0 - Public License
- Initial release;
- Media managment;
- Programmable MIDI input;
- Play themes via MIDI keyboards;
- Customize the theme behavior;
- Syphon 3 ready;
We've strongly tested this version on several macs. Tested on iMac 21"/27" iMac Pro 5K, MacBook 12", MacBook 13", MacBook Pro 15", MacMini and the MacBook Air 7.x.
Discobrick runs smoothly also on the MacBook Air!
This is the main control panel with all the functions and each option is easily configurable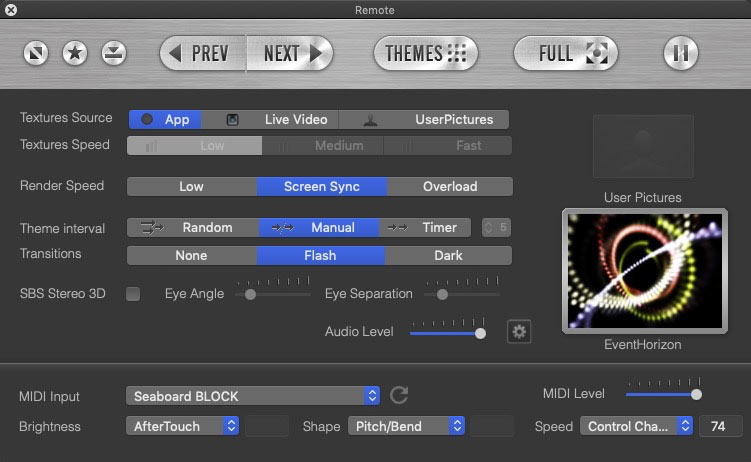 The panel is smart! You can choose among three versions of the Remote panel: Standard, mini and nano. Using the compact interface is easy and gives you access to all features.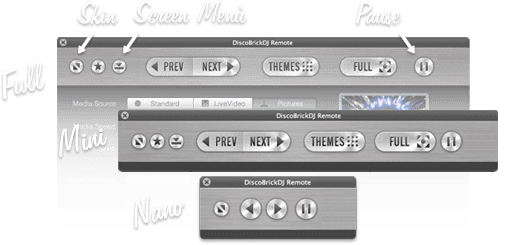 The left side of the panel contains all the settings

Media source settings: Select the input source- images or videos. For photos from Flickr and disk you need to activate Pictures.
Load Flickr pics:

By activating the checkbox (and the "pictures" option) you can use images from Flickr. It's also available the option to upload images by supplying the Flickr Feed.

media Speed: Select the switching speed from one image to another.
Fast : Real-Time displaying of images and Live video in the theme
Low and medium: Live video sequence: series of frames and themes changing at regular intervals.
This is the recommended option unless you want to use real-time video, as It allows you to reduce resource usage while achieving satisfying results.

Theme interval: You can choose 3 different options.
Random: themes are switched after a random lenght of time; Manual: themes are switched manually, using arrow keys; TImer: Themes are switched after a chosen, fixed time you choose from a list
Themes Preview: indicates the active theme and opens the panel topics.

Load Images: Click this button to load images from disk.

Render Speed setting: Playback speed for the effects. "Low" : effects are rendered at minimum speed "ScreenSync": effects are synchronizedin real time. "Overload": effects are rendered as fast as greased lightning, however it drains your mac's resources faster than Dracula drains a virgin :-)

Transitions setting: How DiuscoBrick transitions from one effect to the next. Choose No Effects or White/Black flash.

Drag your favorite skins for the Remote Panel of DiscoBrick.




















The compact interface of the Themes panel is easy to use and gives you access to all features. Selecting your favorite theme is quick and effortless: just click on a theme preview in the themes panel. No boring effect name lists!
Create your own themes list:
You can create your own custom list with all themes available and then modify the selection.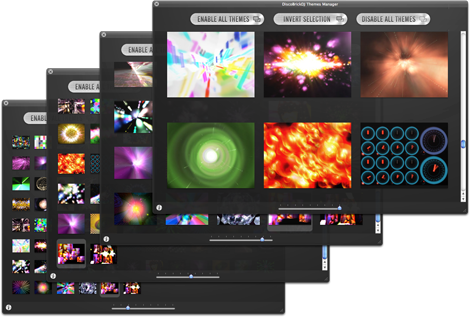 Drag and Drop ordering: You can choose the order of the themes by dragging and dropping the preview thumbnails in the order you desire.

Theme selection: Each thumbnail is a key that can be activated and disabled. There are some options to help you to select just what you want, like "Disconnect Selection" and "Reverse selection".

Suitable for any monitor: The themes panel opens and closes quickly with the Hot Key cmd+T and adapts to any screen size and orientation .
The FX panel is a smart window suitable for every need, which changes behavior depending on its location - full screen or window on the main monitor or second monitor/projector. Other applications are always available, even when in full-screen mode.

In addition to the Remote panel, an alternate, keyboard-driven menu is also available: just use
to enable/disable keyboard control and the arrow keys to select the FX. Want your Remote panel back ? Just press ctrl-R.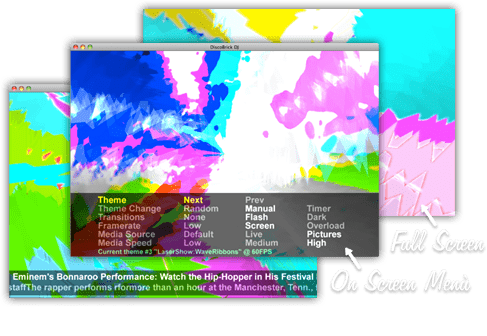 Screen menù:
Use the arrow keys to choose the command and ENTER to execute it. Spacebar exits the menu screen, and cmd-R restores the Remote panel.
Font customization
There are three different fonts for text feeds and you can choose the one you want from the remote panel


Feed details:
RSS feeds are read one at a time and in date order. Flow speed is constant and adapts to the length of the text.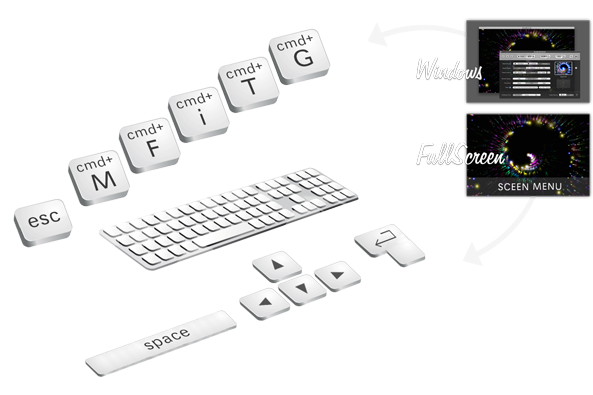 You can open and close any DiscoBrick panel with a hot key.
Full Screen: cmd-f toggles DiscoBrick's full screen mode.
With OSX Lion (10.7) you can also toggle OS X's built-in full-screen facility on and off, by clicking the button at the top right of the window. This option is not present in previous versions of OS X and should NOT be used simultaneously with DiscoBrick's own full-screen facility, which remains the best solution
Hot Keys - Full Screen

You can open and close any DiscoBrick panel with a hot key.
Full Screen: cmd-f toggles DiscoBrick's full screen mode.


Hot Keys Screen Menu

Activate the ScreenMenu with the spacebar, navigate with the arrow keys and "confirm" the command by pressing enter.
Audio Source and your voice

The audio engine works with any audio-IN source (including external professional devices for DJ). So, you can play with your voice and / or the Music. Extend visualization uses to Pro level by connecting your audio source to the line-in or optical audio input.

We even put in an useful shortcut to your system's audio preference panel.

Have fun with video ! DiscoBrick handles live video in realtime through Apple's own interface, using Apple's "iSight" or external USB devices.
You can connect also any compatible USB video-Device or video grabber. All you have to do is to connect the device and close all other applications using the video stream before starting DiscoBrick.
Media managment
Programmable MIDI input
Play themes via MIDI keyboards
Customize the theme behavior
Media managment
Programmable MIDI input
Play themes via MIDI keyboards
Customize the theme behavior
Syphon® software compatible
This version comes with several features for professionals, musicians and DJ's
Recommended System Requirement:
MAC OS X 10.6 | 11+
M1/Intel based Mac, Graphic Card with at least 1GB VRAM. iSight (optional) and/or external video grabber (USB / DV ) for live video. Full support upport for monitor 4K.
(*)Please note that the live video function at medium or high capture rate is not recommended with a graphic card with less than 512MB of video RAM.